Redlake Earth Diatomaceous Earth with Calcium Benonite
Red Lake Food Grade Diatomaceous Earth with Calcium Bentonite benefits include: improved feed conversion, reduced manure odor, and other benefits based on animal type. Red Lake has been used in dairy, beef, poultry, equine, bison, sheep, goat, ratite and pet food diets with positive results. Red Lake DE is safe and does not contain any antibiotics or harmful chemicals. Red Lake Earth with Calcium Bentonite is OMRI-listed feed grade diatomaceous earth containing 36 trace minerals & a hint of Montmorillinite which is a known binder of mycotoxins or mold (67% Food Grade DE and 33% Calcium Bentonite).
RLE contains a full range of macro and micro minerals. All minerals fall into two categories: macro minerals and micro minerals (also known as trace minerals). Minerals are important for both humans and animals and are provided by the food and drink that each consume. Macro minerals are those minerals that are needed in large amounts and include calcium, chlorine, magnesium, phosphorus, potassium, sodium, sulfur. Micro minerals are those that are needed in small amounts, relative to others; micro minerals include cobalt, copper, iodine, iron, manganese, selenium, zinc.
Minerals are an important part of both the human and animal diet for a number of reasons. Physiologically they are important for acid-base balance in the body, for enzyme function and energy transfer. They are also important for certain structural aspects of the body like bones. Overall the appropriate consumption of micro and macro minerals helps humans and animals to maintain healthy, functioning bodies.
This DE is not the pure white DE that we also carry, but rest assured Red Lake Earth is completely safe. Red Lake Earth with Bentonite Clay can be used both internally and externally just as our "original" DE can.
Red Lake DE can be used in the same ways as our "white" DE, but giving the added benefits of Calcium Bentonite which is great for pulling and binding toxins from the body. Unfortunately, animals receive lower grade goods in their feed & Mother Nature's weather can be a factor in how much mycotoxins are in them, all corn, silages, hay, straw, beet pulp, etc. contain some mycotoxins; Bentonite Clay absorbs mycotoxins.
Montmorillinite (calcium bentonite) is the leading pharmaceutical ingredient in scour treatments for animals. Montmotillinite is a non-swelling clay. Think Milk of Magnesia, it is clay for flu like symptoms in humans. People, as well as, animals die from the quick loss of electrolytes with the flu or scours. Red Lake Earth may help someone with food poisoning symptoms.
FEEDING RATES:
Below are the manufacturer's suggested daily feeding rates*
HORSES:
500 to 1,000 lbs - 1 tablespoon per day
1,100 to 1,800 lbs - 2 tablespoons per day
1,800 lbs - 3 tablespoons per day

DOGS & CATS:
If their weight is under 100 lbs. you can feed them 1/4 teaspoon per day

SHEEP, GOATS, ALPACAS, etc.:
1/2 tablespoon per day

DAIRY COWS, BEEF CATTLE, ETC:
Feed approximately 1% of their daily ration or give it to them Free Choice.**

*For the maximum benefits of this product, please refer to the feeding rates here for daily use and here for worming
**When feeding Free Choice - Place a 40 lb bag into a large tub and your animals will eat what they need, but no more. Animals are pretty smart, they smell the minerals they need and what Diatomaceous Earth is and seek it.
TOPICALLY:
Diatomaceous earth naturally controls fleas, flies, ants, earwigs roaches, etc. Chickens love to dust in RLE. Add RLE to all types of bedding, under dog pillows or straw in stalls & dog houses, bird houses for lice etc.
FOOD GRADE DIATOMACEOUS EARTH BENEFITS SUMMARY:

Natural wormer - eliminates many parasites without chemicals

Safe, non-toxic, parasites don't build immunity as they do with traditional wormers

Contains both macro and micro minerals - great for animals, humans, plants, and soil

Reduced scours

Better feed conversion

Helps detox heavy metals, ecoli, bacteria, viruses, etc.

Promotes shinier coats

Digestive aid

Colon cleanser

Better production

Better overall health

Eliminates pests in stored grains

Binder of mycotoxins or mold

Reduces flies, fleas, ticks, etc.

Reduces manure odor

Drying agent

Reduces moisture and pests in barns, coops, kennel, litter boxes, compost piles, and other moist areas

Reduces overall animal stress

Cost effective

DE health benefits mean reduction in vet bills and dis-ease
CAUTIONS:
DE manufacturers who work in diatomaceous earth mines 5 days/week advise inhaling it is not a problem (tho of course, don't be snuffing it) and we have not had problems when inhaling DE in small amounts. IF you have asthma or some other lung ailment, either wear a mask or be very careful when using food grade diatomaceous earth.

Do NOT get diatomaceous earth in the eyes. DE is drying to the eyes, so do NOT put it out when you or your pets are down wind of it. DE is drying to your skin, hands, and feet, just as it can be to your pets.

Do NOT use heavily in carpet. Some advise too much DE causes vacuum problems.

NEVER use pool filter grade or any diatomaceous earth other than those labeled "Food Grade" for yourself or your animals. It can poison or kill them.

Some people experience a healing crisis (detox reaction) when beginning DE consumption. If this occurs, reduce the dose, till your body is cleansed, and then increase to the RDA.

Remember, DE will kill beneficial insects as well, so don't put it on your flowers where the honey bees go and use wisely.
For more information on how we use DE for internal parasites go to our Diatomaceous Earth & Worming page.
For more information about DE for human consumptions go to our Food Grade Diatomaceous Earth Health Benefits for People page.
For more information on food grade diatomaceous earth and fleas Click Here.
For information on using food grade diatomaceous earth for mite infestations in people, pets, and plants Click Here.
DISCLAIMER: Any food grade diatomaceous earth uses other than those approved by the EPA, FDA, or USDA are strictly reports of what farmers, others, and we ourselves have done with diatomaceous earth. Additionally, the following material is not intended as a substitute for the advice of a physician or vet. This information is not intended as a substitute for the reader's independent judgment and personal responsibility. Health issues are far too important to delegate to anyone else. It is highly recommended you seek information and counsel from as wide a variety of sources as possible, as in the end YOU make the decisions.
---
BUY RED LAKE EARTH WITH CALCIUM BENTONITE ONLINE HERE
Please temporarily disable your browser's pop-up blocker or you won't be able to order. The shopping cart uses a pop up window to display your purchase. IF you are ordering multiple small items, our shipping calculator may overcharge you for shipping. IF this occurs, we will refund the excess shipping charges when processing your order. If desired, you can call us (951) 674-0921 to inquire about the cost to ship multiple items.
If you need a DE Duster Applicator, please click Here
---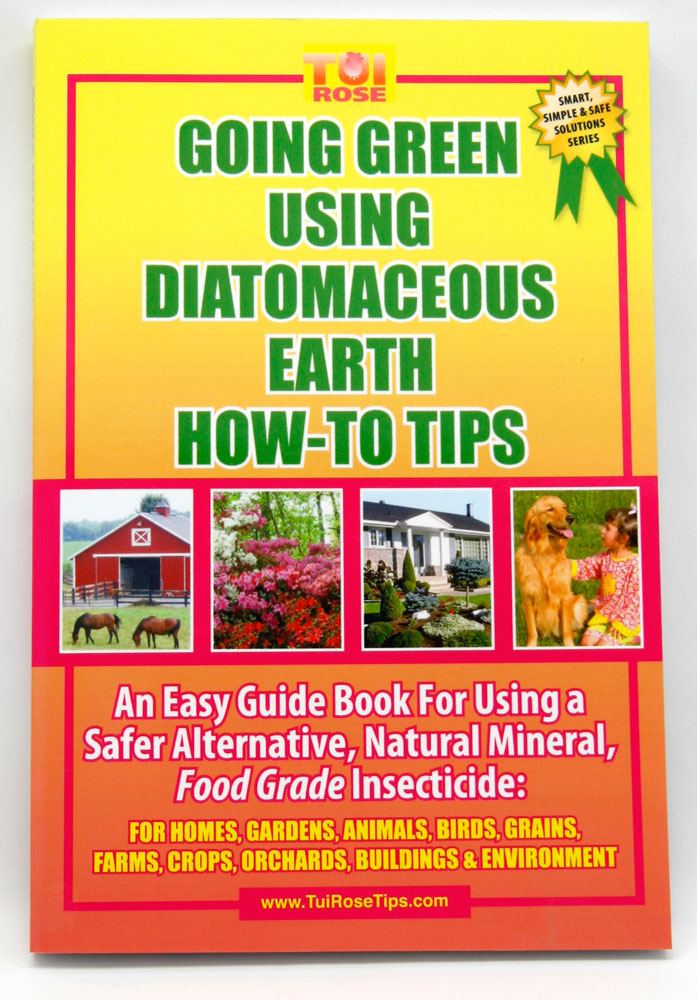 GOING GREEN USING DIATOMACEOUS EARTH HOW-TO TIPS by Tui Rose
More than 101 easy ways to go green using Food Grade Diatomaceous Earth; easy to read book with suggestions for using DE. Gives tips on how to use Food Grade DE for everything from your animals to environmental uses. An easy guide book for using a safer alternative, natural mineral, food grade insecticide: For homes, gardens, animals, birds, grains, farms, crops, orchards, buildings, & environment. 167 Pages. Copyright © 2010.
GOING GREEN USING DIATOMACEOUS EARTH by Tui Rose - Priority - $15.99 (MSRP $16.95)

GOING GREEN USING DIATOMACEOUS EARTH by Tui Rose - 1st Class - $15.99 (MSRP $16.95)
---
RED LAKE EARTH w/Calcium Bentonite 1.5 lbs. (4 Mil resealable bag) US Orders Only - $4.99

RED LAKE EARTH w/Calcium Bentonite 1.5 lbs. (Natural HDPE Round Jar) US Orders Only - $6.99

Two (2) RED LAKE EARTH w/Calcium Bentonite 1.5 lbs. (Natural HDPE Round Jar) US Orders Only - $10.99

Six (6) RED LAKE EARTH w/Calcium Bentonite 1.5 lbs. (Natural HDPE Round Jar) US Orders Only - $24.99
---
RED LAKE EARTH w/Calcium Bentonite 12 lbs. (2 Gallon 4 mil Ziploc Bag) US Orders Only - $12.99

RED LAKE EARTH w/Calcium Bentonite 24 lbs. (2 - 2 Gallon 4 mil Ziploc Bag) US Only - $18.99
---
***PLEASE NOTE: THE 40 LBS. BAG BELOW SHIPPING CHARGES WILL SHOW FOR WEST COAST SHIPPING PRICES ONLY. TO SHIP THIS TO THE MID-WEST OR EAST COAST STATES SHIPPING WILL BE SLIGHTLY HIGHER. FOR PEOPLE IN THE MID-WEST OR EAST COAST IT MAY BE MORE COST EFFECTIVE TO ORDER THE 24 LB. OPTION ABOVE.***
RLE 40 lbs. (Double lined paper bag) Continental US Orders Only US Orders Only - $25.99
---